On Kolkata, Khati Rolls, and a Camera Full of Memories
The first bite of the Khati roll stuffed with tiny chunks of Tandoori chicken, sauteed onions, ketchup, and green chili sauce justified my twenty-eight-hour train journey to Kolkata. The journey was bumpy as me and my friends had to travel in upper berth the entire time as the other seats were occupied by a zillion people!
It was a couple of days before Christmas when I reached Kolkata. I had five thousand rupees in cash, some clothes, and a huge bag filled with camera gear.
The trip was memorable for three reasons.
First, I made it to Kolkata at a time when so much was going on in my life.
My parents were in deep financial trouble and were in the process of selling our house; I was working as an HTML5 developer in a company for a couple of months, but I was so bad at it I did not write a single piece of code for four months; And, I was working as a freelance designer and wedding photographer on the side and made enough money to help my family. I've also saved up a little so that I could buy photography gear, eat biriyani, and travel a bit.
So, when a bunch of friends from the photography club planned for a trip to Kolkata, I immediately said yes. I wanted to escape the situation and go somewhere. I needed a change of scene for a few days to think through things. I did not know what things, but I believed that travel would give me perspective. And, it kinda did.
Second, I had a personal connection with the city. When I was born, my dad was working in Kolkata ( I was born in Chennai though). And, I grew up in Kolkata until I was four. I've heard my mom tell so much about Kolkata. So, I decided to go and experience all those good things, including amazing food.
Third, the city is a treasure trove for photographers and food lovers. The city is rich in culture, art, architecture and of course amazing food.
Even though I had a list of food items to try, the first thing I wanted to try was the Khati Roll.
Khati roll
Many people would relate Kolkata to Rasgullas. But, since I am not too much into sweets, I wanted to try something spicy and flavorful. And, I couldn't think of anything other than Khati rolls. We were walking along a crowded locality that was decorated with colorful Christmas lights and I came to a halt when I saw a Khati roll shop at the corner of the street. The place was crowded. That's always a good sign.
I ordered a Tandoor chicken roll and the others ordered a few other variants like egg, paneer, and chicken tikka.
The guy threw in a couple of rotis on a huge Tawa and drenched them with a generous quantity of oil. As the rotis turned golden brown, he broke three eggs on to the Tawa (except for the paneer roll) and placed rotis on top of the eggs and gently swirled them. The eggs dressed one side of the rotis while the other side had looked golden brown and was glistening because of all the oil. He took all the rotis and placed them on a plate with the egg side exposed. He then placed sauteed onions, chunks of Tandoori chicken, some ketchup, pepper powder, and a splash of green chili sauce. He tightly rolled the roti in butter paper and handed it over to me.
When I took my first bite, I understood what my mom was talking about. Every bite of the Khati roll was an explosion of flavors. It had the punch of the tandoori chicken, the tanginess of the ketchup, and the amazing blend of flavors that came from the onions, egg, and the crisp, flaky roti.
And, the way the rolls were made was an amazing sight to see!
After eating the Khati rolls, we had some Fish momos, Gol Gappas and we called it a night. On my first day in Kolkata, I was happier with the food than the pictures I took. But, I never knew that the next couple of days are going to be even more amazing!
A morning of Self-realization and Poori Aloo
The next morning we decided to walk along the length of the Howrah bridge and explore a few places. We started early in the morning by photographing the magnificence of the Howrah bridge. The morning was cold and the huge metal structure stood over the still waters of Hooghly enjoying the calmness and the cold breeze. For a moment, I took my eyes off the viewfinder and looked at the bridge. It is one of the most amazing things I've seen in my life.
I sat on one of the steps near the river bank and stared at the river that had the wavy reflection of the bridge over it. My mind automatically wandered off from admiring the beautiful morning and started thinking about everything that was going on with my life.
One of the things that bothered me was my job. I was working as an HTML5 developer (which I got through a friend) and I was really bad at it. Despite trying for several months, I was not able to write even a single line of code. My co-workers insulted me often and I always felt out of place. When I thought about it, I was not good at my job and I am occupying a position that can be filled by someone who is really talented. I knew whatever I made as a wedding photographer will keep our family afloat for a couple of months. Sitting there, I realized I can't be at the job anymore. So, I decided to quit my job as soon as I went back to Chennai and look for another job. Maybe something in writing. (And, that's what happened!)
I got up from the banks of Hooghly with a clear head, clicked a few more pictures, and joined my friends to walk along the length of the Howrah Bridge.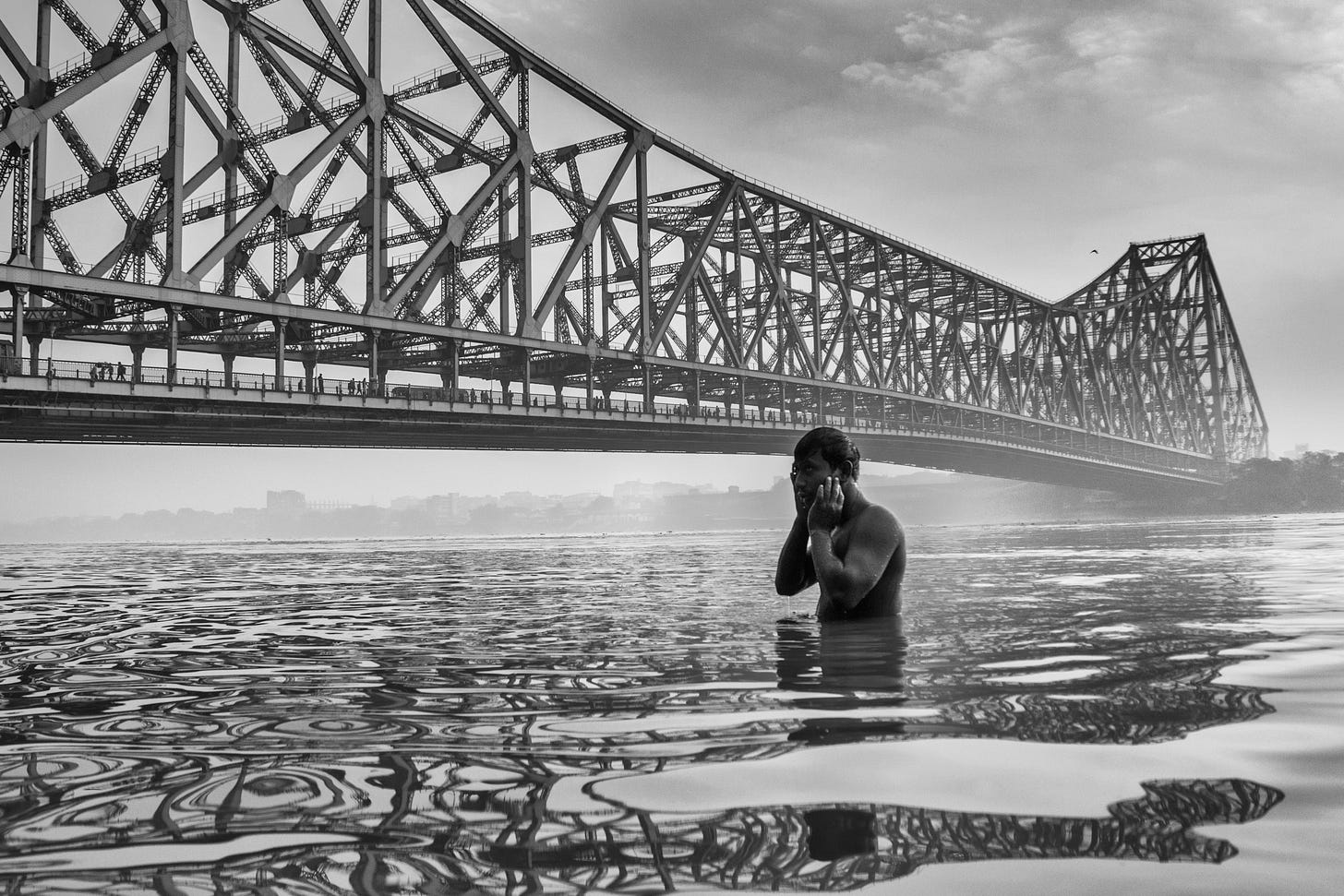 After walking a few hundred meters, we reached the flower market located under the bridge. We took a couple of photographs and aimlessly walked the streets of Kolkata. This is something I love and do whenever I go to a new city. I explore it on foot. It brings you closer to the city.
As we got hungry, we wanted to eat something. As we walked, we came across a guy selling poori and Aloo sabzi on a cart. There was a huge hand oven basket filled with pooris and a bowl of aloo sabzi. Another guy was frying pooris in a pan of hot oil. The portion of the street smelled of fresh pooris and potatoes. Office goers, shopkeepers, and daily wage laborers flocked the cart and were gobbling up pooris. This is an indication of two things. The pooris were tasty and cheap.
We got four pooris and a small bowl with aloo sabzi for ten rupees. Even though the year was 2014, paying ten rupees for four Pooris was a steal! The bowl the aloo sabzi came in was made with dried leaves (we call "Dhonnai" in Tamil). The pooris were hot and tasted amazing with Aloo Sabji. Despite looking similar to the potato curry we serve with Pooris in South India, the taste was different in Kolkata. The flavors were more delicate and it did not stand out as an individual element when you eat it with the Poori. Instead, it blended amazingly well with the poori and gave a sense of fulfillment in every bite.
For the remaining three days we were in Kolkata, we made sure we ate Poori and Aloo for breakfast. It was cheap, tasty, and highly accessible. It is like how easy it is to get Vada Pav in Mumbai. Every food joint sold it and everyone ate it!
Manchurian Balls in Tiretta Bazaar
Before getting on the train to Kolkata, I made some research on places to visit and food items to try. The place that checked both the boxes was Tiretta Bazaar, a small market area that was also a Chinese settlement. It is the go-to place if you want an authentic Chinese meal in Kolkata. On Day 3, we decided to explore the morning market in Tiretta Bazaar. But, we got off at the wrong place. I was a bit disappointed as my dream of having piping hot momos in the Chinese market was shattered. We had Pooris for breakfast and wandered around the streets clicking photographs. It was during the afternoon we accidentally found Tiretta Bazaar. We clicked pictures of some Chinese schools and temples and asked around if there are any Chinese restaurants. A bunch of locals suggested us to try a Chinese restaurant that was around the corner.
When we entered the restaurant, it was around one in the afternoon and we were the only ones there. I was a little skeptical. The owner, who was an old Chinese man (at least I think so!) sat in a corner table and was folding napkins and arranging packing materials for the takeaway.
The menu had a lot of dishes, but we stuck to ordering the dishes we were familiar with. We ordered Chowmein – a form of stir-fried noodles, some chicken Manchurian, veg Manchurian balls and another chicken dish.
It was one of the best Chinese food experiences I've had until now. The Chowmein was stir-fried with chunks of chicken, bell pepper, garlic, and was dressed with right amounts of sauce and spices. The taste was mild. But, as we kept eating, the taste grew on us and we craved more. The best thing about that lunch was the Veg Manchurian balls. It was soft and delicious. The combination of scallions, mashed vegetables with soy sauce, and the Manchurian sauce tasted amazing!
There are only a few times in life where you wander off without a clue but end up coming back with one of the best street food experiences of your life. For me, that happened in Tiretta Bazaar, Kolkata.
A Ray of Hope in Dacres Lane
Dacres Lane is one of the famous locations in Kolkata. The small alley is filled with street food vendors selling everything from Rasgullas, Pooris, Lassi, Momos, and Chowmein.
But, when I reached there, the place was closed! None of the shops were open (I can't clearly remember why). There were just two shops open. One sold Chowmein and chili chicken and the other one sold Lassi.
It was an odd combo, but we decided to go for it.
After having a fine plate of chowmein and chili chicken I asked "how much?"
The guy said "forty-eight rupees"
I said "Okay….for the chicken? I got chili chicken"
He smiled and said, "Still forty-eight rupees".
That is something I loved about Kolkata. The food was great and so was the price. I ate so much during the trip but still came back home with thousand rupees left in my trip budget. And, Chinese food and restaurants were more common in Kolkata than I imagined. There were several places in the old part of the city that served amazing Chowmein.
After the Chowmein meal, we filled our stomachs with Lassi. We sat by the side of the road as we couldn't move further. We even thought if we should head back to the room for a nap. But, walking further sounded like a good idea as we'll get hungry again and can eat more for dinner.
A Trip with so many Flavors
Everything I tasted in Kolkata was amazing. The Mishti Doi; The Rasgullas; The Pooris; The odd yet delicious Mutton biriyani that had a boiled potato instead of an egg; The khati rolls and Sandesh. It was a place that cleared my head and filled my stomach. It was one of my best trips yet. Given a chance, I would definitely go back to the city and relive the whole experience again. That's what good food and a good city do to you. It sends you off with so many good memories along with an invitation for you to go back and relive those memories again.