Tamil-Speaking Waiter in a Foreign Country
"Pacharisi Saapadu dhaan sir (It's steamed raw rice, sir)" assured the waiter after he instantly recognized I'm a tourist and from Tamilnadu. My first foreign trip felt like a scam!
Being a South Indian, I was both happy and disappointed to see steamed rice and an amazing spread of South Indian non-vegetarian dishes at the restaurant. That wasn't what I was expecting when I stepped foot on Kuala Lumpur.
When the bus dropped me off at KL Sentral Bus station in the afternoon, the first thing I wanted to do was eat. I was so eager to taste Malaysian delicacies like Nasi Goreng (the traditional Malaysian fried rice), a Milo shake, some crispy duck, and noodles.
But, seeing a South Indian buffet and a Tamil speaking waiter is something I did not expect. I was shocked, even though I knew Malaysia had a large Tamil population. Later I came to know that that part of the city is called Little India and it is known for its Indian restaurants.
As I filled my plate with steamed rice, mutton gravy, chicken sukka, and two pieces of fried chicken leg, I realized that I've actually made it to a foreign country on my own.
My trip to Kuala Lumpur was a surprise, even to me.
A little bit of a Flashback
At the end of 2017, everybody in my team was planning to go somewhere to spend the new year. I too, wanted to do something. The new job at Freshworks offered me a few extra bucks and I wanted to do something I've always dreamed about – go on a backpacking trip to a foreign land.
My first shot at going abroad was during 2009 when a research paper me and my friend worked on got selected for a conference at the University of Cambridge, London. I got the passport and the visa, but my parents said they can't afford to pay for the trip. My college refused too! My friend's dad was kind enough to tell me that he would take care of lodging and other expenses if I can handle the flight ticket. But, I couldn't go. Ever since that incident, the dream to step foot on a foreign land popped out every now and then.
So, when everyone made plans for the new year, I opened up Skyscanner and looked for the cheapest ticket to the nearest foreign country. When I saw Kuala Lumpur I immediately booked my tickets. The city is developed enough to give me the awe of visiting a foreign land, and will also have a fair share of Tamil speaking people to help me out, you know…just in case.
As I ate the food, my focus shifted to the present. The food was delicious. The rice was soft and the gravy and sukka tasted really good. The Mutton gravy reminded me of a small restaurant in Karaikudi where I had dinner a few years back.
Even though my first meal in the city wasn't an extraordinary experience, it made me feel safe. The Tamil speaking waiter and South Indian food indirectly assured me that I was close to my home.
As a new international traveler, I was afraid of a lot of things. But my first meal in little India gave me confidence. With the newfound confidence, I decided to explore the city, the cuisine and spend the new year's eve in Kuala Lumpur.
Clay Pot Chicken Rice
I was totally beat as I did too many things on my first day in Kuala Lumpur.
After the meal at the Indian restaurant, I checked into the traveler's hostel and spent the evening roaming around the city. As the night seeped in, I started feeling hungry. So, I decided to go to China Town for dinner. Before boarding the plane I made a note to visit China Town as it had a lot of amazing street food joints that offered traditional Malay and Asian delicacies.
As I scanned through hundreds of street food joints, I came across a place that served Hong Kong clay pot chicken rice. I remember reading about it on a blog. So, I decided to try it. The man who ran the place also took the orders and cooked the rice. His wife and daughter took care of table service and cleaning up.
As I ordered a bowl of clay pot chicken rice, I observed the way he works. It is a great experience to see a veteran chef working. It is an elegant display of his craft. Within a couple of seconds, he added the rice, the chicken, the sauce and the spices on to an earthen pot mixed them and kept it on the burner. As he took the next order, he opened the other pots on the burner (there were at least ten of them) and checked them one by one to see if they're done.
I sat there and admired the level of experience he should have to do all this simultaneously.
When the dish finally reached my table, I was in for a treat.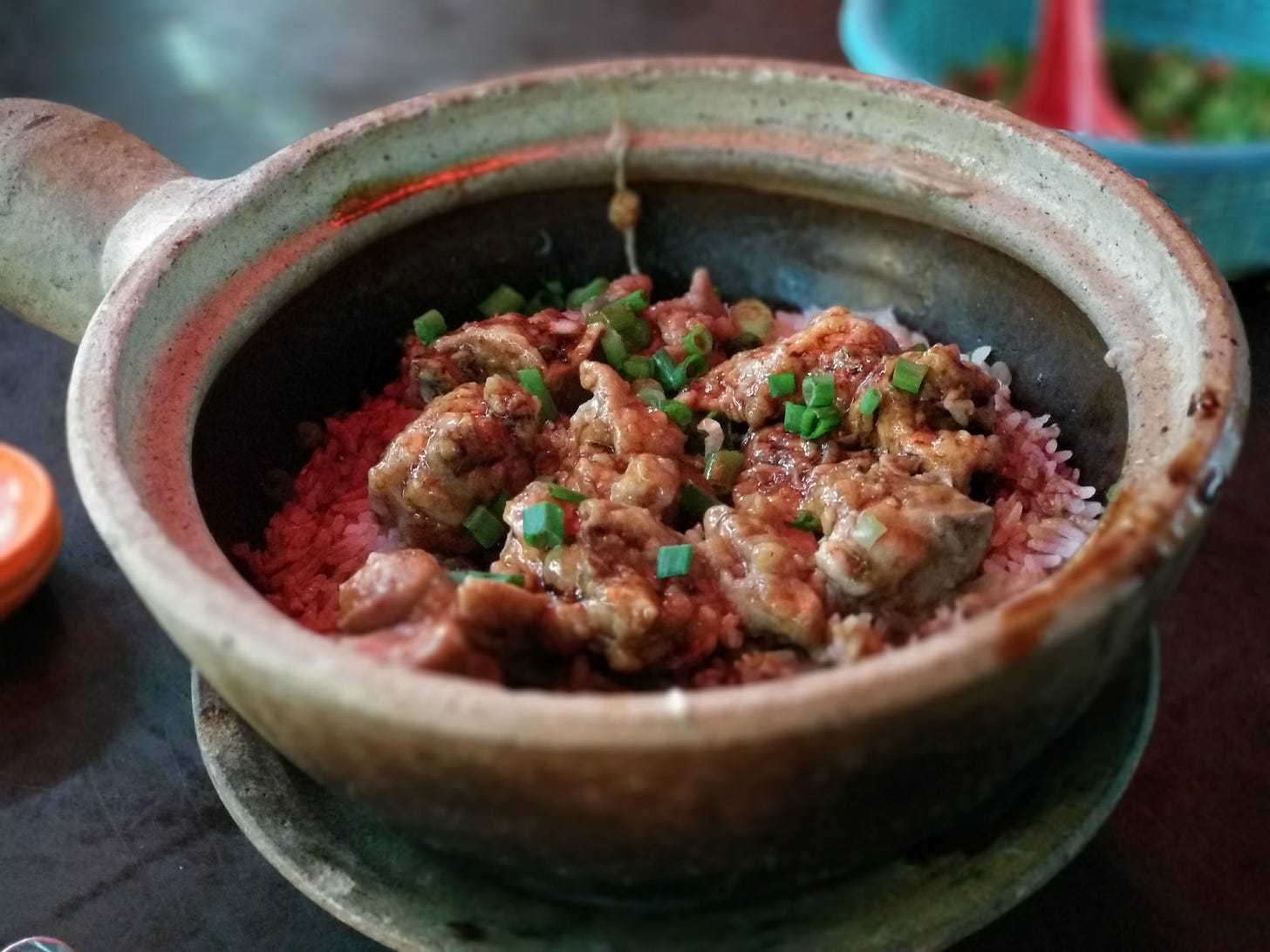 The chicken was juicy and was infused with garlic and the punchy flavor of soy sauce. The freshly sprinkled scallions added a bit to crunch and complimented the beautifully cooked chicken and rice. It was my first proper Asian dish in Malaysia and it was amazing.
The quantity I ordered was enough for two people, but I was able to finish it on my own because I was so hungry and the clay pot rice was so delicious.
Mashed Potato, cheese, and Fried Chicken
Probably one of the weirdest, yet tastiest things I've had in KFC.
It was my second day in Kuala Lumpur. I was walking the streets of Bukit Bintang and I saw a KFC outlet. I know fast-food chains like McDonald's and KFC will have different menus in different countries (Chicken Maharaja Mac is a very Indian thing!).
So, I walked in to see if I can find something drool-worthy.
As I scanned through the menu, I realized most of the items were similar to what we ate in India. Except for one.
There was a dish description that read "mashed potatoes topped with cheese and chunks of fried chicken"
"Wow!"
What's not to love in that dish.
I ordered the dish and they gave it to me in a small bucket (the ones in which they serve fried chicken).
It was one of the most delicious KFC dishes I've had. The creaminess of the mashed potatoes and the crunchiness of the chicken went so well together. And, it was super heavy!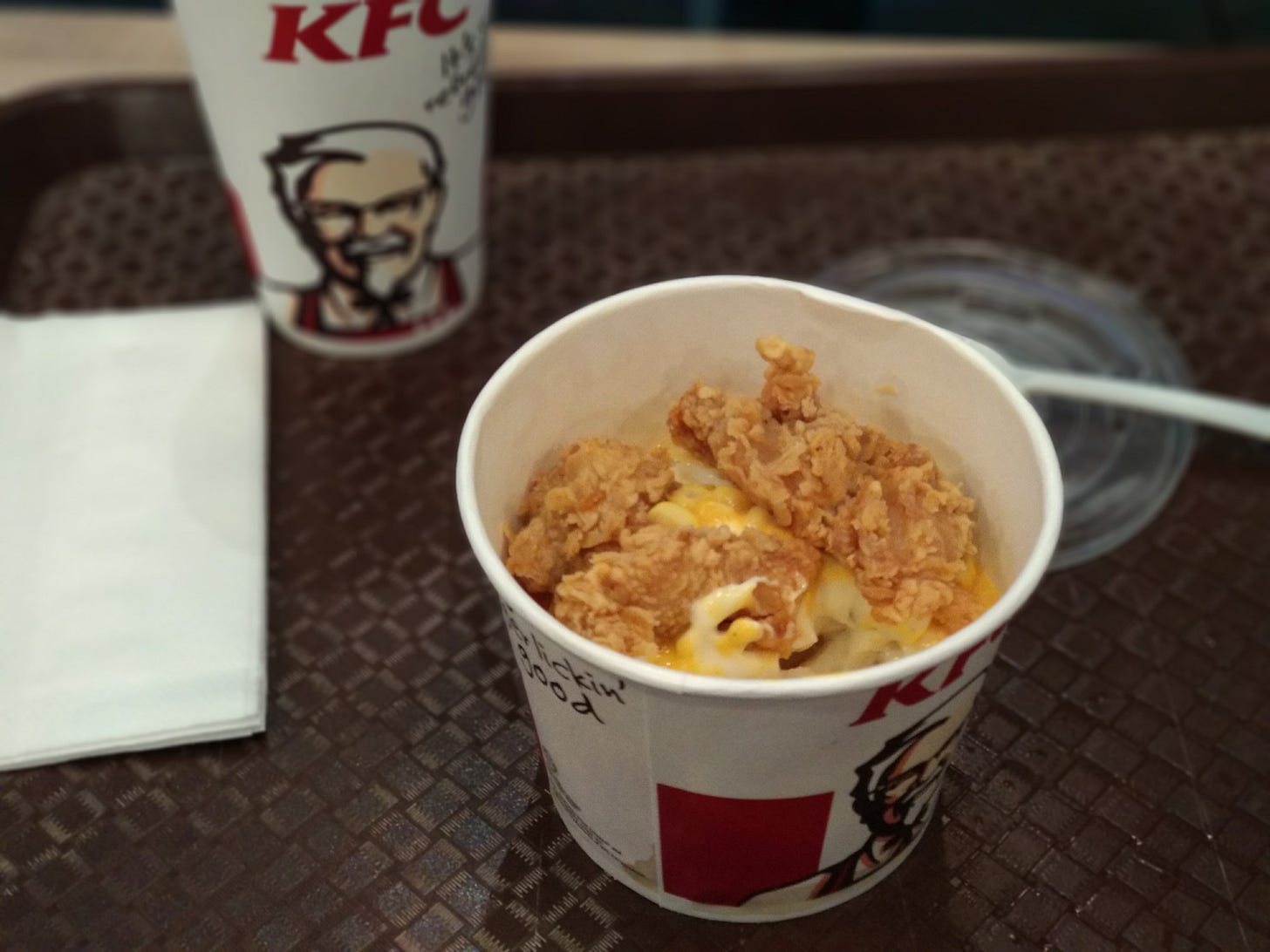 I don't know if they still have it on the menu. But, if I go to Kuala Lumpur, I will not miss eating a bucket full of mashed potatoes and fried chicken.
BBQ pork and rice
This is the dish I recall whenever I think about good food. I was walking around China Town again (this time at noon) and came across this restaurant. It was located at the junction right opposite to the China Town entrance. The huge board said Lai Foong Restaurant.
It was not a fancy place. It had an open entrance that led to a huge hall with a lot of tables and chairs.
There was a huge wok on one side where a young man was making fried rice and pork gravy at a lightning speed.
On the other end was an old man sitting under an assortment of Barbecued meat that hung from the ceiling on hooks. There was a roasted duck, chicken, and pork. They were inviting and a waft of sweet and spicy aroma surrounded them. I was really tempted to try the dish.
I went in and sat in one of the tables. An old lady walked up to the table and asked me what I want. I said I would like a plate of BBQ pork.
She asked me "With rice?"
I said yes. Apparently it comes with rice.
The old man stood up from his chair and made a clean cut from the piece of roast pork that was hanging from the ceiling.
He then chopped it into little chunks slid them on to the knife blade and gently dropped it on top of a plate that had the rice.
The old lady served BBQ pork with some rice, chili sauce, and a bowl of clear soup.
The first thing I tasted was the pork. It has a great aroma and as I chewed it, the meat gave out an amazing flavor that was an amalgamation of soy sauce, garlic, and brown sugar. I could sense that the meat was marinated in the sweet garlicky mixture and would've at least been cooked for a couple of hours.
The rice that was cooked in coconut/coconut milk gave a rich and creamy texture to the sweet and spicy pork. I am not a fan of chili sauce so I did not touch it. The clear soup was salty and had a strong flavor of the chicken. It was a heavenly combo.
I kept smiling as I ate and an old man who was eating at the table next to me looked at me and smiled.
I smiled back.
He said " I come here every day. For several years. Good food"
"I agree. This is amazing" I said in return.
Growing up I never tasted anything other than Chicken, Mutton, and Prawns. Kuala Lumpur opened and eyes and made me see the amazing world that is filled with pork delicacies. Ever since then, I've become a big fan of pork.
I've had a lot of BBQ, but nothing can beat this dish I had in Malaysia.
Milo, Everywhere
I loved Milo as a kid. The chocolaty drink is not as popular as Boost. But, when I was in school you can easily get Milo everywhere. But, Malaysia has a whole new level of craziness for Milo.
Everyone there is obsessed with the drink. You can't come across a restaurant that doesn't offer Milo. You can see Milo milkshakes, chocolates, cookies, ice cream, and whatnot. Everybody ordered a glass of chilled Milo whenever they ordered food. I had Milo monster shake in a mall and I kept drinking it for several minutes. I had to miss a meal because of the shake.
Prawn and Pork Dimsum
The last thing I tasted before catching the flight to Chennai was the prawn and pork Dimsums. Whoever came up with this stuff should be given an award. There are only a few occasions where two different kinds of meat go so well together. And Prawn and Pork in a Dimsum is a perfect example of that. Since I had some time before catching the flight, I thought of exploring Jalan Alor, which is a famous place for street food in Kuala Lumpur.
As I walked along the length of the street I came across a ton of shops selling nothing but Satay (pieces of grilled meat on a stick) and BBQ.
There was one shop that stood out. They were selling Dimsums in different shapes and colors. You can get a set of five Dimsums on a plate. There were different types of Dimsums. When I asked the shop owner, the lady pointed fingers at the bamboo baskets and said "Chicken, Prawns, Pork and Prawns".
I got a plate of pork and prawn Dimsums and continued walking. As I took a bite from the Dimsum, I understood why this combination works so well together. The mild spiciness of the pork meat and the sweetness of the prawn created a beautiful blend of flavors that cannot be explained with words. And, since both have a profound flavor, the Dimsums were punchy and made me want to eat more. I went back to the shop and got five more Dimsums as a takeaway. I ate it at the airport While I was waiting for the flight.
Throughout my trip, I came across several amazing dishes like the traditional Nasi Goreng, crispy barbequed duck, Satayed squid, chicken, and so on.
But the ones I wrote about impressed me so much and kind of make me want to go back to Kuala Lumpur. And, given a chance, I would always start my trip from Little India after tasting that delicious Mutton gravy.